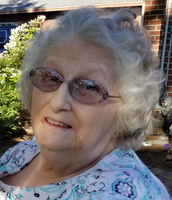 Beverly A. Bushey
Bangor—Beverly A. Bushey, 77, passed away Nov. 13, 2017, at Stillwater Healthcare with her family by her side. She was born Feb. 2, 1940, the daughter of Charles and Mona (Spencer) Stillings.
Beverly was born, raised, and made her home in Bangor. She was married to James P. Bushey, Sr. for 55 years, until his death in 2011. She was a devoted housewife, mother, grandmother, and great-grandmother for most of her life. She enjoyed collecting dolls, artwork and puzzles, and playing bingo. Beverly will be remembered for her excellent cooking and love of babies.
She was predeceased by her husband; parents; sisters Isabelle Stillings, Esther Martin, Grace Beckwith, Ruth Dodge; brothers Henry Stillings, David Stillings, Gary Sedgley. Beverly is survived by children Gail Bushey and David Thompson of Bangor, James Jr. and wife Donna Bushey of Bangor, Carol Bushey and Christopher Reed of Bangor, Richard and wife Linda Bushey of Kenduskeag, Daniel and wife Karen Bushey of Kenduskeag, Jeffrey Bushey of Bangor; many grandchildren and great-grandchildren; sister Evy Inman of Winterport.
The family would like to thank the caring staff at Hospice of Eastern Maine and Stillwater Healthcare for the care they provided to Beverly in her last days.
Family and friends are invited to visit 5-7 PM Thursday, Nov. 16, 2017, at Kiley & Foley Funeral Service, 299 Union St., Bangor. A Mass of Christian Burial will be celebrated 10 AM, Friday, Nov. 17, at St Paul the Apostle Parish, St. John's Catholic Church, 207 York St., Bangor. Burial will follow at Mt. Pleasant Catholic Cemetery, Ohio St., Bangor. All are invited back to the church hall for a reception. Messages and memories may be shared with the family at kileyandfoley.com