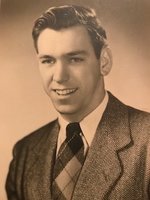 Robert V. McDonald
Bangor—Robert Vincent McDonald, 92, passed away December 1, 2017, in Bangor. He was born Sept. 10, 1925, the son of Chester and Hazel (Smith) McDonald.
Robert was born and raised in Bangor. He attended Saint Mary's Catholic School and John Bapst High School. He was inducted into the John Bapst High School Hall of Fame for athletic achievement for the decade of the 1940's. He served in the United States Army during World War II, where he was in the 83rd Infantry and fought in the Battle of the Bulge. He returned to Maine after the war and worked for Eastern Fine Paper, where he met and later married his wife Rose. During this time he also played semi-pro baseball and basketball. He also worked for Bangor Housing Authority, Maine Central Railroad, and the University of Maine. Robert was a lifelong communicant of St. Mary's Church.
Robert was predeceased by his wife Rose (Sementelli) in 2001; son Richard McDonald; daughter-in-law Diane (Caron) McDonald; brothers Francis, Paul, and Richard. He is survived by daughters Ann and husband Brian Smith of Mapleton, Patti McDonald of Bangor; 8 grandchildren; 24 great-grandchildren; special friend Joan Tremble.
A Mass of Christian Burial will be celebrated 10 AM, Saturday, December 9, 2017, at St. Paul the Apostle Parish, St. Mary's Catholic Church, 768 Ohio St., Bangor. Burial with military honors will follow at Mt. Pleasant Cemetery, Bangor. All are invited to a reception in the church hall following the burial. In lieu of flowers, the family requests donations be made to: All Saints Catholic School in Bangor or The Wounded Warrior Project. Messages and memories may be shared with the family at kileyandfoley.com
Arrangements by Kiley & Foley Funeral Service, 299 Union St., Bangor.