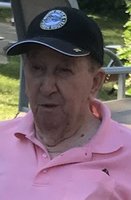 Donald M. Cust, Jr.
Donald M. Cust, Jr., 87, devoted husband of Marie M. Cust, passed away peacefully on Dec. 16, 2017 surrounded by loved ones after a brief illness. He was born Nov. 12, 1930 in Brewer, the son of Donald and Frances (Blackman) Cust. Donald worked for the US Postal Service 32 years and later worked for Kraft Foods. He excelled as an excellent athlete and his passion was baseball, playing and umpiring for many years. Donald enjoyed many wonderful camping trips through the years with his family. The highlight of his life were his granddaughters; he especially loved attending their activities, watching their sporting events and most of all playing Yahtzee. He enjoyed being in the kitchen and known for his pea soup and his meatballs by his family and friends.
Surviving in addition to his wife of 65 years of Bangor are three children, Deborah Cust of Bangor, Dana Cust and his wife Shawnee of California and Jeffrey Cust and his wife, Judith of Bangor; five granddaughters, Jennifer Cust of California, Amanda Cust of New Hampshire , Liz Cust of Bangor , Sydnee and Taylor Cust of California, three sisters, Pauline McLain of Brewer, Rose DiProfio and her husband Gerald of Caribou, Patricia Bartlett and her husband, George of Florida and one brother, Michael Cust of Bangor; several nieces and nephews. He was predeceased by his parents, two sisters, Dorothy Clukey and Arline Diggins, and his in-laws, Guy Lester Metcalfe and Marguerite (White) Metcalfe. Donald's family gratefully thanks the staff of EMMC, Hospice and Stillwater Healthcare for their dedicated and excellent care.
Family and friends may visit 12 – 2 PM Friday, Dec. 22, 2017 at Kiley & Foley Funeral Service, 69 State St., Brewer where a service honoring his life will be held at 2 PM as the visitation concludes with Rev. David Gardiner, presiding. A time of fellowship and refreshments will be immediately afterward at the Park East Villa community room, 321 Stillwater Ave., Bangor. Burial will be in the spring at Woodlawn Cemetery, Brewer. For those who wish, memorial contributions may be made to the Brewer High School Scholarship Fund, 79 Parkway South, Brewer, ME 04412. Messages and memories may be shared with Donald's family at kileyandfoley.com
.