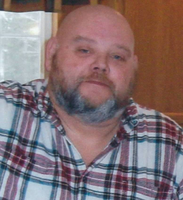 Patrick Dennis McCoy
Orrington—Patrick Dennis McCoy, Sr., 65, died suddenly January 24, 2018, at home. He was born July 19, 1952, the son of Edward and Cleora (Porter) McCoy.
Patrick graduated from John Bapst High School, Class of 1970, where two of his children, and currently his granddaughter, also attended. He played football in school and his love of sports carried on throughout his life. He was a lifelong Black Bears fan, traveling to Milwaukee to witness 42-1-2, as well as a New England Patriots fan, and now has the best seat in the house for the Super Bowl. He was very active in the Town of Orrington, serving as Chairman of the School Board as well as Chairman of the Orrington Recreation Association where he coached, refereed, and umpired almost every youth sport through the 80s and 90s. More recently, he has spent much of his time in service to the East Orrington Congregational Church, including serving as the current treasurer of the Mission Committee. Patrick worked many jobs over the years, notably for Sears and the Champion Mill in Costigan, where he served as the President of the union, but his favorite job was his most recent as Job Coach for the Developmentally Delayed at Amicus in Bangor, where he retired in 2017. One of his favorite things in the world was spending his time with his family and soaking in the beauty, calm, and cold, clear water up'ta camp. Patrick was a true family man, and will be dearly missed by many.
He was predeceased by his father; granddaughter Alysia Brown; brother James Laird; sister-in-law Dorothy Chasse. Patrick is survived by his cherished wife of 45 years Nancy (Osborne) of Orrington; mother Cleora of Bangor; children Patrick McCoy, Jr. and wife Cassie of Kittery, Shannon Braley and boyfriend Earl Gary of Bangor, Christopher McCoy and wife Meagan of Orrington, and Heather McCoy and boyfriend James Willis of Orrington; grandchildren Courtney, Donald, Taryn, Marek, Ella, and Brady; great-grandchildren Cahlie, Calvin, and Elliana; brother Barry Leland and wife Tammy of Orrington; sister Barbara Copeland of Bangor; many nieces and nephews, and many, many in-laws.
In lieu of flowers, the family requests donations be made the East Orrington Congregational Church Mission Board.
A memorial service will be held 10 AM Tuesday, January 30, 2018, at East Orrington Congregational Church, 38 Johnson Mill Rd., Orrington, with Rev. Carl Scriber officiating. In remembrance of Patrick, casual attire is suggested; Red Sox, Patriots, or UMaine apparel recommended. All are invited for food and fellowship in the church's Fellowship Hall following the service. A private burial will be held at Marston Cemetery, Orrington, in the spring. Messages and memories may be shared with the family at kileyandfoley.com
Arrangements by Kiley & Foley Funeral Service, 69 State St., Brewer.