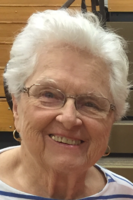 Theresa R. LeClair
Theresa LeClair
Brewer – Theresa LeClair, 83, wife of Aldof "Al" LeClair, passed away peacefully Jan. 25, 2018 in Bangor. She was born Mar. 11, 1934 in Waterville, the daughter of Mathias and Adrienne Morissette. She was the youngest of nine children.
Theresa grew up in Waterville and graduated from St. Joseph's Academy, South Berwick, ME. She was employed as a bookkeeper at the YMCA until her retirement. Al and Theresa spent winters in Summerfield, FL. She was an avid card player, especially cribbage and bridge. Theresa loved being a "memere" to her many grandchildren and great-grandchildren and Al and Theresa recently celebrated their 65th wedding anniversary.
Surviving, in addition to her husband of Brewer, are five children, Yvette Turner and her husband Pat of Gorham, ME, Pete LeClair and his wife, Kristy of Windsor, Colorado, Terri Eldridge and her husband Mark of Brewer, Marc LeClair and his wife, Ellen of Bangor, and Phil LeClair and his wife Peggy of Hampden; eleven grandchildren; seven great-grandchildren; many nieces, nephews and cousins. Theresa was predeceased by a son, Paul LeClair, and her eight siblings.
Family and friends may visit 4 – 6 PM Wednesday, Jan. 31, 2017 at Kiley & Foley Funeral Service, 299 Union St., Bangor. A Mass of Christian Burial will be celebrated 11 AM Thursday, Feb. 1, 2017 at St. Paul the Apostle Parish, St. Teresa's Catholic Church, So. Main St., Brewer where a reception time will be immediately afterward. Burial will be at Mt. Pleasant Cemetery, Bangor in the spring. For those who wish, memorial contributions may be made to All Saints Catholic School, PO Box 1749, Bangor, ME 04402. Messages and memories may be shared with her family at kileyandfoley.com.