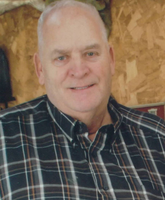 Garrel A. Bouchey
Hermon and Glenburn—Garrel Alton Bouchey, 74, passed away January 30, 2018, from a brief illness. He was born March 17, 1943, in Washburn to Milford and Pauline (Everett) Bouchey.
He attended school in Washburn and played basketball and volleyball for the Washburn Beavers. He graduated in 1961. Garrel was a union carpenter with Local 621. He went on to teach evening classes in carpentry and millwrighting at EMVTI in Bangor. He served on the Glenburn Planning Board for a time. He enjoyed summers at Swan Lake and time in the Allagash. He loved fishing, hunting, and driving his coupe. He was well known for giving wild rides in his Hot Rod!
Garrel was predeceased by his parents and brother-in-law Bill Baker. He is survived by loving companion Sally Smart of Hermon; children Pamela and husband Randy McKay of Glenburn, Cindy Thibodeau and husband Chad of Glenburn, Robin Todino of Glenburn, Cheryl Fraser of Camden, NC, David Bouchey and companion of Rene Davis of Glenburn; brother Paul Bouchey and wife Carol of Rogers, AR; sister Judy Baker of Lancaster, CA; Sally's children Barbara and husband Ron Polk of Riverside, CA, Karen Randall and companion Harold Ranger of Peabody, MA, Deb and husband Andrew Farnham of Hermon, Chris Smart and wife Tammy of Glenburn, Jeanette Abbe and husband Daryl of Temple, TX; numerous grandchildren, nieces, and nephews; former spouse Jacky Bouchey of Glenburn.
A graveside service will be held in the spring at Snows Corner Cemetery, Hermon. n lieu of flowers, the family asks that donations be made to Lafayette Family Cancer Center, PO Box 931, Bangor, ME 04402-0931. Arrangements by Kiley & Foley Funeral Service, 299 Union St., Bangor.Messages and memories may be shared with the family at kileyandfoley.com.