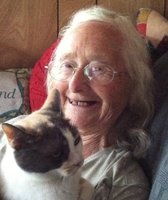 Norma G. Smart
Norma Morgan Smart of Carmel passed away peacefully with her family at her side on Feb. 27, 2018. She was born a daughter to James and Olive Speed on March, 30, 1936.
Norma was predeceased by her two husbands, Millard Morgan and Gene Smart, and a grandson, Travis Morgan. She is survived by three children, Steven and wife Donna of Bowerbank their son, Paul; Cindy Smith and husband Jeff of Carmel and their children, Samantha, Jason and Kimberly; Jake and wife Cindy of Carmel, their children, Josh, Chris and Nick. She is also survived by a brother, Paul Speed and wife Lynne of Carmel and a sister, Jane Curtis and husband Tom of Glenburn.
After the loss of her sister, Elaine Horton, at a young age, Norma was blessed with watching over her nieces and nephews, Harold Horton, Debbie Jack, Joe Horton, Cheryl Horton, Doug Horton and Victor Horton. Norma loved NASCAR and her Sunday rides with Samantha, Lou and Max. She also had a love for her cows, goats, sheep, rabbits, chickens and her cat, Lucky. She was blessed with special friends, Doris Shirk and Joan Potter. Norma's children would like to thank their sister Viola Morgan Emerson, Pastor Gilbert Reed, the EMMC staff on Grant 5 for all their care and support.
Graveside services will be held 11 AM Saturday, May 19, 2018 at the Highland Cemetery in Carmel. Arrangements trusted to Kiley & Foley Funeral Service, Bangor and Brewer. Messages and memories may be shared with her family at kileyandfoley.com.