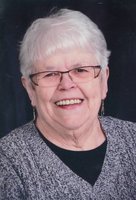 Roberta L. Domingo
BREWER - Roberta Lou (Bates) Domingo was born on March 23, 1931 in Houlton, Maine to Delmont E. and Cora (Philpot) Bates. She lived in Patten through grade four, moved to Hartford, CT through grade eight, moved back to Patten through her Freshman and Sophomore years at Patten Academy and graduated from Presque Isle High School in June 1948. She graduated from Aroostook State Normal School in 1951, taught school in Wiscasset and Bangor and graduated from Aroostook State Teachers College with a B.S. degree in 1957.
Bobbi married Rudolph N. Domingo of New Orleans in Bangor, ME on January 28, 1956. Rudy was career military so they traveled to many different bases in Germany, Okinawa, Michigan and North Carolina as a family. She tutored students in Germany, taught in Michigan and North Carolina and finished her 33 year teaching career with 19 years as a 2nd grade teacher at Pendleton Street School in Brewer. She was very active in BEA Activities serving as treasurer and negotiator for the local unit. Bobbi belonged to the county, state and national retired teacher's association.
Bobbi was a lifelong Methodist and a long time member of North Brewer Eddington United Methodist Church. She was active in church activities, a member of the choir, Administrative Board, Trustees, church suppers and fairs. She was coordinator of Brewer Serve New England food program and worked at Meals for ME. Bobbi enjoyed swimming with the senior exercise group at the Y, "The Water Lilies", the Sit-R-Cise group at the church, and her devoted Pendleton Street Retirees, "The Coffee Girls", who met each Friday AM for coffee - even after 40 some years! A wonderful life.
She was married for 43 years and predeceased by Rudy in January 2000 and by her parents, parents-in-law and brother-in-law, David. She is survived by three loving children, Roanne Austin of Brewer, Roger Domingo and wife Katherine of Cumberland and Ruth Domingo and Diane Matthews of Lyman; her granddaughters, Ashley Austin, Caitlyn, Emily and Elizabeth Domingo were the love of her life and the joy of her retirement. She is also survived by her sisters, Diana and husband Paul Giles, Jennifer Ryan, and sisters-in-law Lorraine Babin and Audrey Roger. Bobbi and family would like to thank the wonderful staff at Beacon Hospice, especially Mary, Desiree, Heidi, Bret, Jack, and Anne-Marie for all of their love and care these last few months.
Family and friends may visit 5 – 7 PM Wednesday, Mar. 7, 2018 at Kiley & Foley Funeral Service, 69 State St., Brewer. A service honoring Bobbi's life will be held 11 AM Thursday, Mar. 8, 2018 at the No . Brewer-Eddington United Methodist Church, 31 Main Road, , Eddington with Chaplain Jack Williams of Beacon Hospice and Rev. Kate Nicol, pastor, presiding. A time of fellowship and refreshments will be immediately afterward and burial will be later in the spring at Woodlawn Cemetery, Brewer. Memorial contributions may be made to NBEUMC, 31 Main Road, Eddington, ME 04428 or Sarah's House, 346 Main Road, Holden ME 04429. Messages and memoires may be shared with her family at kileyandfoley.com.