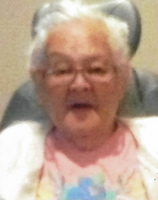 Christine Bell Davis
Orrington & Old Town—Christine B. Davis, 85, passed away surrounded by family and friends at Brewer Rehab on March 1, 2018, from a long illness. She was born December 25, 1932, the daughter of Clifton and Hester (Snow) Brown.
Christine worked for Paine Hospital in Bangor. She also worked at a woolen factory, shoe factory, and many years with antiques. She enjoyed riding the City Bus and spending time with her friends at Crossroads.
She was predeceased by her parents; husband Stanley Davis; son Stanley Davis.; granddaughter Jennifer Ryder; brothers Bernard, Wallace, Damon, and Linley Brown; sister Helen Cossette; long time companion Chapin Baker. Christine is survived by daughters Eva Boutaugh and husband Mark of Bradley, Katherine King and husband Wayne of Corinth; sons Steven Davis and girlfriend Pam Cartwright of Bradley, Martin Larsen and wife Dorothy of Bucksport; sisters Betty Scott of Orrington, Adele Freitas of Glenburn; brother Frank Brown of Easton; 16 grandhildren; 7 great-grandchildren; one great great-grandchild; special friends Sharon Corcor, Marie Hernandez, Dolores Rustin, Jennifer Thompson; many nieces, nephews, and cousins.
The family would like to thank the staff at Brewer Rehab, The Woodlands, and Beacon Hospice for the care they provided to Christine. In lieu of flowers, donations in her memory may be made to Amedisys Foundation, 289 State St., Suite B, Bangor, ME 04401.
Burial will take place in the spring at Evergreen Cemetery, Bradley. Messages and memories may be shared with the family at kileyandfoley.com
Arrangements by Kiley & Foley Funeral Service, 299 Union St., Bangor.