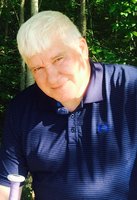 Richard A. Day
Richard A. Day, 70, husband of Frances (Disy) Day died unexpectedly, March 5, 2018 in Bangor. He was born 1947 in Caribou, the son of Richard B. Day and Clarice G. (Armstrong) Day Rafford.
Rick grew up in Caribou. As a boy scout with his mother as the den leader, he proudly attained the honor of becoming an Eagle Scout. He graduated from Caribou High School in 1965 with Fran and her sister, Toni. He attended Ricker College before enlisting in the US Army to serve in Vietnam. He proudly served as a ranger in the 101st Airborne Screaming Eagles. After returning home, he began to establish two families — his own and of his work. Rick and Fran settled in Bangor to raise their children. In 1974, Plisga & Day Land Surveyors opened their doors. Both families continue to thrive because of his dedication, commitment, and passion.
Rick remained an avid outdoorsman. He was a lover of all animals, especially his granddogs, Fritz and Harry. He enjoyed spending time at Reed Pond in Macwahoc, one of his favorite places to be. Most of all Rick loved his family, adventuring with Fran, reminiscing with his children, and cherishing every moment he could with his granddaughters. His humble manner, generous ways, humor, wit, and cleverness made Rick a memorable person.
Surviving in addition to his wife of 47 years of Bangor whom he married in 1971 are their four children, Betsy C. Murphy and her husband, Patrick of Winterport, Patricia M. Reece of Bar Harbor, Richard B. Day of Portsmouth, NH, and Charles W. Day and his wife, Caitlin of Cumberland; five granddaughters, Erin, Emily, Eliza, and Caitlin Murphy, and Rylee Reece; two sisters, Deanna Whitmore of Bar Harbor and Dorothy Barton of Gray. His family also included nieces, nephews, the large Disy family, and many dear family friends. He appreciated and respected those he worked with and for. If you met him and you knew him, he loved you.
A Mass of Christian Burial will be celebrated 10 AM Friday, March 9, 2018 at St. Paul the Apostle Parish, St. John's Catholic Church, 207 York St., Bangor with military honors being offered at the conclusion of the ceremony. A time of friendship and refreshments will be held afterward in the church center. Burial will be at a later date at No. Maine Veterans Memorial Cemetery, Caribou. For those who wish, memorial contributions may be made to Plisga & Day SVT Scholarship ATTN: Gift Processing, University of Maine Foundation, Two Alumni Place, Orono, ME 04469-5792 www.umainefoundation.org or to Camp Roosevelt, c/o Katahdin Area Council, PL Box 1869, Bangor, ME 04402-1869. Arrangements by Kiley & Foley Funeral Service, Bangor and Brewer. Messages and memories of Rick may be offered at kileyandfoley.com.