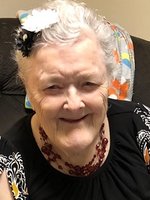 Betty Jean Conary
Betty Jean Conary, 77, died Mar. 12, 2018 in Bangor. She was born Dec. 7, 1940 in Deer Isle, the daughter to Earl and Ruth (Saunders) Conary.
Betty resided at McKay Shared Living and she enjoyed her day program, The Gathering Place. Betty loved to shop and enjoyed going out to eat. She also loved to spend time with William, Tara and the boys. A special thank you is extended to Alice McKay and her team as well as Alliance Case Management for being Betty's advocate and greatest supporter during her last months.
In addition to her parents, Betty was predeceased by a sister, Margaret Black and by a brother, Albert Conary. She is survived by a brother, Edwin Conary of Malden, Mass and by a sister, Stella Hamlin of Waterville; nieces, nephews and in-laws and friends in the Bangor area.
A time of gathering and celebration will be held for her family and friends and burial at Greenwood Cemetery in Stonington will take place at a later date. Arrangements by Kiley & Foley Funeral Service, Bangor and Brewer. Messages and memories of Betty may be shared at kileyandfoley.com.