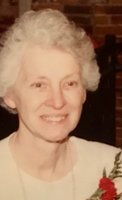 Hilda C. Swan
Hilda Carver Swan, 89, passed away peacefully on March 15, 2018 after a period of declining health. Hilda was born on Aug. 2, 1928 in Turner, Maine to Alton and Doris Libby Carver. She graduated as valedictorian from Buckfield High School in 1945 and from Farmington State Teachers College in 1949. She taught in elementary schools in Skowhegan and Bangor before marrying Harold Swan of Brewer on Nov. 24, 1951. She worked side-by-side with Harold in the family beekeeping business for over 60 years; working in the bee yards, doing the bookkeeping, and helping him in every possible way. She was also a caregiver for her parents-in-law, her parents, and her elderly aunt until their deaths. Her home was always open to visitors; beekeepers looking for supplies or advice, friends, relatives, or people in need. One of the characteristics that stood out the most about Hilda was her peaceful, calm spirit no matter what the circumstances. She had a constant attitude of thankfulness, humility, and optimism. She was a role model for her children and grandchildren and her positive influence will never be forgotten. She enjoyed sewing, cooking, gardening, and nature. She was a member of Calvary Baptist Church for 52 years and was active in the Ladies' Bible Study and the choir. Her focus in life was not on herself but on her Lord and Savior, Jesus Christ, and on serving others.
Hilda was predeceased by her husband, Harold, on Jan. 14, 2018 and her oldest son, Richard, in 2016. She is survived by Richard's wife Connie Swan of Bradley, daughter, Ellen Swan Levesque and husband Jim Levesque of Bowdoin, son, David Swan and wife Jane of Cumberland, and son Stephen Swan and wife Patti of Windham; seven grandchildren and three great-grandchildren.
A celebration of life for Hilda and her husband Harold, is planned for 11 AM Saturday, April 7, 2018 at Calvary Baptist Church, 61 State Street, Brewer. There will be a reception to follow at the church. For those who wish, memorial contributions may be made to Calvary Baptist Church, 61 State St., Brewer 04412. Arrangements are trusted to Kiley & Foley Funeral Service, 69 State Street, Brewer. Messages and memories may be shared with the family at kileyandfoley.com.