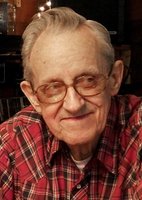 Carl E. Coffin
Carl E. Coffin, 84, died quietly at his home on Mar. 16, 2018. He was born in Jonesport, Maine Nov. 1933, the son of L. Earl and Eula (Crowley) Coffin. Carl graduated from Bangor High School in 1951 and he served in the U.S. Navy as a Quarter Master from 1953 to 1961 enlisting during the Korean War. He retired from the Bangor Daily News in 1995 as press room foreman after 31 years of dedicated service and was named an honorary lifetime member of the Graphic Communications International Union. Carl was a member of the Brewer Fraternal Order of Eagles No. 3177 for 48 years where he enjoyed singing karaoke, playing poker, dancing, and playing in pool and cribbage tournaments.
Carl is predeceased by his parents and his wife of 41 years Roberta M. (Seavey) Coffin. He was a loving father to his two daughters, Heather Boulier and husband Chris and Carlene Carpenter and husband Robert both of Brewer and is also survived by his brother Larry Coffin of Cape Cod; two grandchildren, Daelyne Hill and husband Logan and Jeremy Sigouin both of Bangor; several nieces, Joan, Rebecca, and Cindy and one nephew, Roderick; his loving companion of 21 years, Gaylene Rackliffe and countless friends and fraternal brothers and sisters.
Friends are invited to pay their final respects to Carl and his family from 5 – 7 PM Wednesday, Mar 21, 2018 at Kiley & Foley Funeral Service, 299 Union St., Bangor. The Fraternal Order of Eagles will preside in a service of remembrance at 7 PM as the visitation concludes and military honors will be offered. Carl will be laid to rest with his wife at Mailey Hill Cemetery, Columbia, Maine in the spring. Memorial donations may be made in Carl's name to the Fraternal Oder of Eagles Charity Foundation Funds c/o the Brewer Eagles F.O.E. 3177, 22 Atlantic Avenue, Brewer or to Forgotten Felines at www.forgottenfelinesofmaine.org. Messages and memories may be shared at kileyandfoley.com.