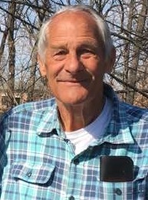 Alan Douglas Glanville
Bangor and Orono— Alan Douglas Glanville, 77, died Monday, March 19, 2018 at EMMC surrounded by his loving family after a short illness. He was born July 29, 1940, the son of Albert Douglas and Blance "Betty" (Sellers) Glanville.
He was a graduate of Orono High School, where he co-captained the 1958 Class M State Championship basketball team. Alan then graduated from University of Maine at Orono in 1962 and completed his graduate work in psychology at University of Massachusetts Amherst in 1965.
Alan was an incredible man. He worked as a psychologist at Community Health and Counseling Services for over 40 years, where his empathy and compassion knew no bounds. He was a highly principled man who frequently contacted his representatives to urge them to act in the interests of others who were most in need. Alan had no tolerance for hubris or flash. His tastes were simple, as evidenced by his consistent wardrobe of flannel and denim and his steady diet of whatever had the lowest unit price at Shaw's. He loved Maine. He had seemingly endless staring contests with Maine's beauty, especially its birds, and probably saw close to every square mile on his regular fishing trips. Despite all appearance as a small-town Mainer, one of the greatest ironies, which so exemplified the sense of humor with which he approached life, was his love of the music of a sequin-wearing city boy from Brooklyn: Mr. Neil Diamond!
He was predeceased by his parents and brother Bruce Dawson Glanville. Alan will be greatly missed by wife Elizabeth "Betsy" (Soldati) Glanville of Bangor; daughters Margaret Glanville Milner and husband Ernie of Gaithersburg, MD, Betsy Glanville of Scarborough, Deborah Glanville of South Portland, Sarah Glanville and husband Brian Swahn of Jamestown, NC, and Alison Glanville and husband T.J. True of Bangor; son Chris Glanville of Portland; nine grandchildren: Terry and Alan Robinson, Alex Powers, Emily Johnson, Dylan Glanville, Gavin and Owen Glanville-True, Micah and Griffin Swahnville.
At a later date, a small memorial for friends and family will be held at a bucolic site much beloved by Alan and his fishing buddies, Bob Croce and Mick Evans. Messages and memories may be shared with the family at kileyandfoley.com
Arrangements by Kiley & Foley Funeral Service, 299 Union St., Bangor.