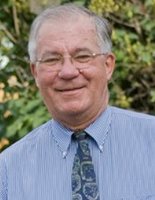 Thomas F. Knaide, DMD
Bangor – Dr. Thomas F. Knaide, 71, husband of Sandra A. Knaide, died unexpectedly April 11, 2018 at his home in Bangor. He was born Dec. 7, 1946 in Bangor, the son of Frederick W. and Thurza J. (Fayle) Knaide.
Tom was a 1964 graduate of Brewer High School and a 1969 graduate of St. Michael's College in Winooski, Vermont, where he also taught 8th grade science and biology for two years. He pursued a career in dentistry, graduating from Tufts Dental School in 1975. In July of 1969 Tom married the love of his life Sandi and they lived in Vermont, Massachusetts, and later settled in Hampden where he began his dental practice. Tom practiced dentistry in Hampden and later in association with Dr. Shaun Dowd in Bangor before retiring after more than 30 years in practice. Tom's focus throughout his dental career was on quality and compassionate care for his patients. After retirement he pursued an interest in designing and selling custom made sea glass jewelry. Tom and Sandi built their lives together in Hampden, raising their three children and living on Meadow Road for more than 35 years.
Tom possessed all of life's greatest qualities. He enjoyed many hobbies and interests: he was an avid reader, loved to play golf, and enjoyed all things history related, especially the Civil War. Tom excelled at trivia and Jeopardy was a night time favorite. He was commonly referred to in his family as the "cribbage champion." Throughout his dental career Tom was a member of the Penobscot Valley Dental Association, Maine Dental Society and the American Dental Association. Tom enjoyed all sports, especially baseball, and was a lifelong Red Sox fan. Tom was an active member of the community, coaching little league in Hampden and supporting and raising funds for the Special Olympics. Tom was a communicant of Saint Matthew's Church in Hampden, St. Paul the Apostle Parish. Tom was truly a genuine individual, respected and loved by many friends; family being the most treasured part of his life.
Surviving in addition to his wife of 48 years, Sandra A. (Seymour) Knaide of Bangor, are three children, Kara Kitchin and her husband, Robert Kitchin, Jr. of Bangor, Matthew Knaide and his wife, Tanya of South Portland and Shannon Knaide and her fiancé, Troy Eastman of Hampden; six beloved grandchildren, Brock, Adynn, Brennan and Grace Kitchin, Sydney Knaide and Kullen Eastman; brother-in-law, Wallace Seymour and his wife, Pamela of Huntsville, Alabama, a cousin Bobby Fayle and his wife, Rita of East Millinocket, his nieces Rachel and Jessica Seymour and nephew, Jake Seymour, as well several cousins. He will also be greatly missed by his golden retriever "Jack".
A Mass of Christian Burial will be celebrated at 11 AM Friday, April 20, 2018 at St. Paul the Apostle Parish, St. Matthew's Catholic Church in Hampden. Burial will be at Mt. Pleasant Cemetery, Bangor. For those who wish, memorial contributions may be made to the Maine Parkinson's Society or the Maine Heart Association. Arrangements trusted to Kiley & Foley Funeral Service, Bangor and messages and memories may be shared with Tom's family at kileyandfoley.com.