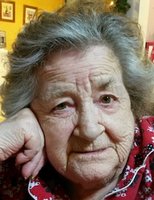 Christine E. Cummings
Christine E. Cummings
Bangor-Christine Elizabeth (Tilley) Cummings, 91, passed peacefully June 28, 2018, at her longtime home in Bangor. She was born October 16, 1926 in Bangor, daughter of Joel Wesley and Rose May (Stinson) Tilley. She was predeceased by her husband of 64 years, L. Robert "Bob" Cummings. She retired as a baker from Garland Street Junior High School, and worked at EMMC in the housekeeping department. She enjoyed sewing, knitting, church fairs, antiquing, and was always up for "a lunch" at one of her favorite restaurants. She will be missed by all who knew her.

She is survived by three daughters, Roseanne Roach of Bangor, Mary Doak of Hermon and Julie Esp and husband, Eirik, of Nashua, N.H.; sister, Barbara White of Bangor; sister in law Annette Taylor of Bangor; eight grandchildren, Margaret Roach of Bangor, Amie Doak of Old Town, Dianne Charland and husband, Jason, of Orono, Paul Doak of Bradford, Patrick Doak and wife, Laura of Brewer, Madeline, Elena and Nicholas Esp of Nashua, N.H.; ten great-grandchildren, Ashley, Jaimie and husband , Adam, Dylan, Camron, Cohen, Caliber, Coyote, Kody, Jordan, and Charlotte; great great grandson, Malaki; several nieces, nephews, and many friends. In addition to her parents, she was predeceased by 2 sisters; 6 brothers.
Visitation for family and friends will be 6-8 p.m. Friday, July 6, 2018 at Kiley & Foley Funeral Service, 299 Union St., Bangor, where a funeral service will be held 10 am Saturday, with Rev. Dave Dalzell officiating. Interment will be at Mount Hope Cemetery, Bangor. In lieu of flowers, to carry on her enjoyment of community and fellowship, donations in her memory may be made to First United Methodist Church of Bangor, 703 Essex St. Bangor. ME 04401, for the Thursday Night Community Supper program, which Christine enjoyed. Messages and memories may be shared at kileyandfoley.com.