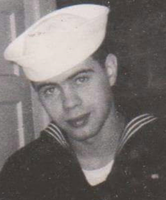 Charles E. Welch
Charleston & Orono--Charles Eugene Welch, known to friends and family as "Skip," passed peacefully from our world into heaven on September 27, 2018 at the age of 69.
Skip grew up in Orono, the oldest of seven, and enlisted in the Navy at the end of 1965. He was trained as a corpsman (nickname "Doc") and was deployed with the Marines in Vietnam in February of 1967. He was awarded a Silver Star Medal that year, with a citation that read as follows:
"Hospitalman Welch, while on patrol with his unit on June 4, 1967, came under intense fire from a numerically superior Viet Cong Force. Seeing the point man and machine gunner fall from the initial burst of enemy fire, Welch unhesitatingly and fearlessly exposed himself to enemy fire, as he proceeded across a rice paddy to his fallen comrades' side. In doing so, Welch was painfully wounded in the leg. Undaunted, he regained his footing and continued towards the wounded Marines and upon reaching them expertly administered medical aid to them before treating his own wound.

Realizing that his companions were in danger of losing their lives unless quickly and adequately defended, Welch boldly manned the wounded machine gunner's weapon and directed counter fire against the enemy to protect the men under his care. Welch continued to defend the wounded and his position until reinforcements arrived and forced the enemy to retreat."
He was predeceased by his father Phillip; daughter Jeanne Lynn; grandson Mathew David; niece Carole Anne Soucie; nephew Joseph Lindquist. Skip is survived by his devoted wife Anne Marie of Charleston; children (and greatest pride in life) David Welch and fiancé Ana, Amy Booker and husband Shawn, Katie Welch and companion Brandon; grandchildren Mickey, Nathan, Lily, Aiden, Bethany, Tyler, Lyla, Jocelyn; great-granddaughter Emelyssa; loving mother Sylvia Welch Pearson of Orono; siblings Sharon Jones and husband Richard, Valerie Soucie and husband Paul, Forrest Welch, Brent Welch and wife Anna, Holly Lindquist and husband Lenny, Kevin Welch and wife Debbie; many nieces and nephews.
Memorial donations may be made to the Wounded Warrior Project, PO Box 758517, Topeka, KS 66675-8517, support.woundedwarriorproject.org.
A funeral service will be held 11 AM, Tuesday, October 2, 2018 at the Orono United Methodist Church, 36 Oak St., Orono. All are invited to a reception at the church following the service. Interment with military honors will take place 10 AM, Wednesday, October 3, at Maine Veterans Cemetery, 163 Mt Vernon Rd, Augusta. Messages and memories may be shared with the family at kileyandfoley.com
Arrangements by Kiley & Foley Funeral Service, 69 State St., Brewer.