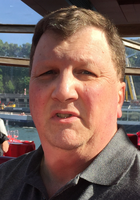 Paul Wayne Vienneau
Milford & Vanceboro—Paul Vienneau, 53, passed away October 2, 2018, after a hard-fought battle with brain cancer. He was born in Calais, the son of Leon and Charlene (Audette) Vienneau. Paul grew up in Vanceboro.
Paul and his wife, Virginie, began their lives together as pen pals. After five years of writing letters back and forth, they met and eventually got married on February 14, 1991. They moved to Montreal where they had their two kids before eventually settling in Milford, Maine. He loved the outdoors. He enjoyed hunting, fishing, and one of his favorite things to do was kayak. He also loved to read and had taken up photography. He proudly served as a customs officer for almost 30 years and was working at the Bangor International Airport.
He was predeceased by his father and brother Alan. Paul is survived by wife, Virginie; sons, Ryan and Ethan; mother, Charlene; brother, Glen; nieces Sarah, Jessica, and Kimberly.
In lieu of flowers the family requests that donations be made to the The Roger L. Von Amelunxen Foundation at https://rogerfoundation.org/
A Mass of Christian Burial will be celebrated 10 AM, Tuesday, October 9, 2018, at Parish of the Resurrection of the Lord, Holy Family Catholic Church, 429 Main St., Old Town. All are invited to the church hall for a luncheon following the service. Burial will take place at 1 PM that afternoon at Mt. Hope Cemetery, 1048 State St., Bangor. Messages and memories may be shared with the family at kileyandfoley.com
Arrangements by Kiley & Foley Funeral Service, 299 Union St., Bangor.