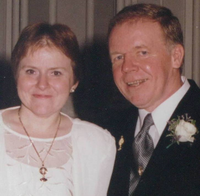 Edward T Hamilton
Newburgh—Edward T. Hamilton, 67, died peacefully in the presence of his loving and devoted wife November 22, 2018. He was born September 9, 1951, the son of Clement and Dorothy (Alley) Hamilton.
He attended school in Bangor and graduated from Bangor High School. He went to work for Maine Central Railroad shortly after and retired in 2011 after a 40 year career. Edward was an avid outdoorsman and ran a portable sawmill. He once built a log cabin by hand.
The constant force in Edward's life was his Catholic faith. He was a devoted communicant at St. John's Catholic Church in Bangor. He served as a Eucharistic Minister, taking communion to those who were sick at EMMC, and as a rosary maker. He was a 4th Degree member of the Knights of Columbus and served with the Honor Guard. In 2004, Edward took a pilgrimage to Europe to visit many holy sites that were important to his Catholic faith. He always had a prayer book in his back pocket and took every opportunity to share his faith with anyone he interacted with. Many who encountered him stated, "We've never met a Catholic like you!" Edward loved the Lord and, in return, the Lord guided and protected him.
He was predeceased by his parents. Edward is survived by wife Mary-Ann (Marcellino) Hamilton; daughter Patience Hamilton; sisters Carole Viel and Joyce Kennedy; many nieces, nephews, and friends.
In lieu of flowers, the family requests donations be made to St. Paul the Apostle Parish, St. Vincent de Paul Fund, 217 York St., Bangor, ME 04401.
A Mass of Christian Burial will be celebrated 11 AM Wednesday, November 28, 2018, at St. Paul the Apostle Parish, St. John's Catholic Church, 217 York St., Bangor. Burial will follow at Mt. Pleasant Catholic Cemetery, Ohio St., Bangor. All are invited to the church hall for a reception following the services. Messages and memories may be shared with the family at kileyandfoley.com
Arrangements by Kiley & Foley Funeral Service, 299 Union St., Bangor.