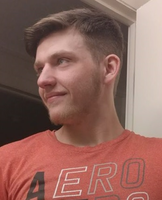 Frederick E. McMann. Jr.
Eddington - Frederick E. McMann, Jr., 19, died unexpectedly Dec. 8, 2018 in Bangor. He was born Jan. 20, 1999 in Portland, the son of Frederick E. McMann, Sr. and Linda (Small) and Sean Savoy. Frederick attended Brewer High School and Job Corps in Bangor.
He is survived by his parents, Frederick McMann, Sr. of Florida and Linda and Sean Savoy of Eddington; his girlfriend, Gabrielle Caldwell and their son, Ryker Savoy; three siblings, Chelsea Savoy and her wife, Chelsea of Bangor, Sean Savoy, Jr of Eddington and Rachael McMann of Bangor; his maternal and paternal grandparents, many aunts, uncles and cousins.
A service to honor Frederick's life will be held 2 PM Sunday at the Holden Congregational Church, Church Road, Holden with Pastor Linette George, presiding. Memorial contributions may be made in his memory to his family for support purposes care of Linda Savoy. Messages and memories may be shared with his family at kileyandfoley.com.