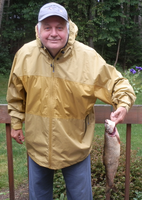 Walter L. Sandberg
Hermon--Walter L. Sandberg, 88, passed away peacefully at home Thursday, December 20th after a long illness surrounded by family. Mr. Sandberg was born on June 18, 1930 in Ramsey, New Jersey to David and Ivy (Munson) Sandberg. He graduated from Ramsey High School in 1948 and married Elizabeth Jane Hood on January 1, 1951. They were blessed with a daughter and two sons.
He served in the U.S. Navy Reserves from 1951-1954. After working in his father's floor covering business, his careers involved several successful entrepreneurial ventures including motel and restaurant ownership/management in Virginia and North Carolina. Locally, he enjoyed working at Central Maine Moving and Storage prior to retirement in Maine. His love for Maine grew from childhood vacations on Moosehead Lake. He was happiest with a fishing rod in his hand. He was a great story teller. We will particularly miss his tales of being a cook in the Navy, playing violin in the symphony orchestra, and countless fishing adventures in the Maine and Canadian woods. He is survived by his high school sweetheart and wife of nearly 68 years, Betty Jane; two sons and their wives: Craig and June Sandberg and Leonard and Stephanie Sandberg; a grandson, Logan Sandberg and two granddaughters and their spouses: Hannah and Luke Griles and Mariah and Justin Gardner. He was predeceased by his daughter Jennifer Bright.
A memorial and graveside funeral will be held in the spring.