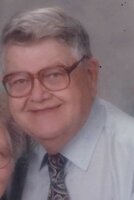 Richard A. Goodness
Richard A. Goodness, 90, husband of Thelma A. (Rogers) Goodness, died Nov. 19, 2021 at his home in Brewer 1 day before his 91st birthday. He was born Nov. 20, 1930 in Brewer, the son of Leo J. and Grace G. (Sutton) Goodness.
Richard was a 1949 graduate of Brewer High School and was a lifelong resident of Brewer. He served with the Army National Guard for 7 years worked for the Brewer Water District for many years retiring as a foreman. He also a Captain with the Brewer Fire Department call staff where he also worked for many years.
Surviving are three children, Mary McDougal of Brewer, Carol Ross of Newburgh and Robert Goodness of Brewer; five grandchildren, Chris Goodness, Matt Ross and his partner, Alisha, Amy Sewell and her husband, Sonny, Monique Goodness and Paul Leo Goodness; two great grandchildren, Peyton Ross and Braxton Sewall; nieces, nephews and cousins. He was predeceased by his wife in 2013, by his son, Bruce Goodness in 2015 and by five brothers, Leo, Peter, Paul, Donald and John Goodness.
Family and friends may visit 4 - 6 PM Monday, Nov. 22, 2021 at Kiley & Foley Funeral Service, 69 State St., Brewer. A Mass of Christian Burial will be celebrated 10:00 AM Tuesday, November 23, 2021 at St. Paul the Apostle Parish, St. Joseph Catholic Church, No. Main St., Brewer. Burial will be at Mt. Pleasant Cemetery, Bangor. For those who wish, memorial contributions may be made to St. Paul the Apostle Parish, St. Joseph Catholic Church, 207 York St., Bangor, ME 04401 or to St. Jude's Childrens Research Hospital at https://www.stjude.org/donate. Messages and memories may be shared with his family at kileyandfoley.com.