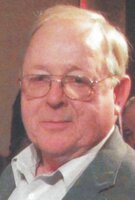 Keith I. Kinney
Keith I. Kinney, passed away peacefully, Dec. 24, 2021 surrounded by his loving family. He was born August 4, 1945 in Aroostook County, the son of John and Elva (Ross) Kinney.
Keith worked for many years as a truck driver before retirement. Most recently he volunteered as a driver for Penquis Cap where he was greatly appreciated by his boss, Tim, who will miss him. He had a great love of vintage cars and attended many car shows and drive-ins.
He was a loving father who always took care of his family. He leaves behind his significant other of 17 years, Lillian Harmon of Glenburn; his loving daughters, Karen Kinney of Dexter, Robin Kinney and her companion Angela Johnson of Bucksport, Wendy Lewis of Cary, ME and Susan Dube-Vargas and her husband, Eddie; a special grandson, Steven Kinney and his wife, Michaelle and their children, Jaymi and Keith Kinney; a sister, Charlotte Kinney of Connecticut; brothers, Aubrey Kinney and his wife, Nancy of New York and Neil Kinney of Kansas; special sister-in-law, Sandi Kinney-Thomas and husband, Dave. He was predeceased by his wife of 37 years, Sandra L. Kinney, his grandson, RJ Picken, his brother, Arnold "Dug" Kinney and Dug's son, Travis and a brother, Paul Kinney.
It was Keith's request that no formal service be held. In lieu of flowers, donations may be made in his honor to the Bangor Humane Society, 693 Mt. Hope Ave., Bangor, ME 04401 or at bangorhumane.org or to Old Dogs New Digs, 7718 Valmont Rd, Boulder, CO 80301 or at olddogsnewdigs.com. Arrangements trusted to Kiley & Foley Funeral Service, Brewer and Bangor. Messages and memories of Keith may be shared with his family at kileyandfoley.com.
"May the angels hold you tight in their arms until we are together again."