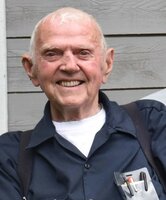 William R. "Bill" Pomeroy, Sr.
William "Bill" R. Pomeroy, Sr., 89, founder of Pomeroy's Garage, passed away peacefully on January 1, 2022, in the company of his loving wife Mary Louise "Marie" (Costigan) Pomeroy, his family, and his beloved cat.
Bill, son of Lawrence and Laura (Michaud) Pomeroy, was born on December 5, 1932 in Presque Isle Maine. He was predeceased by his siblings Margaret, Ralph, Malcolm, Wendell, and Ronald. He is survived by his sister Mary Elizabeth "Bette" Pomeroy Atkins, his wife Marie, his children Joni Pomeroy Tropepe (husband Ralph and grandchildren Laura and Corey), Jani Pomeroy Shuman (husband Andrew and granddaughter Megan), William Robert Pomeroy Jr (wife Missy and grandchildren Brittany, William III, and Logan) John Eric Pomeroy (wife Sharon and grandson Colton), and 11 great grandchildren.
Bill retired from Pomeroy's Garage in the mid-1990's, but he continued to get up every morning and work on one of his many projects. He wore his navy blue Dickies and work boots right up until he couldn't. Bill was a kindhearted man who dearly loved his family, both human and four-legged.
Family and friends may visit 3:00 – 5:00 PM, Thursday, January 6, 2022 at Kiley & Foley Funeral Services, 69 State St., Brewer where a service honoring Bill's life will be held at 5:00 PM as the visitation concludes. A graveside service will be held in the spring. Messages and memories may be shared with his family at www.facebook.com/pomeroysgarage or at kileyandfoley.com