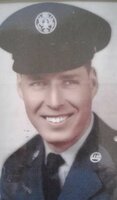 Virgil Vernon Mason
Virgil V. Mason passed away peacefully at home January 7, 2022, with family by his side. He was born August 27, 1933, in Carmel, the son of Donald Mason and Florence (Hanscomb) Mason.
Virgil worked on the Mason Farm for many years until he enlisted in the Air Force. He worked for the State of Maine driving snow plow trucks, running excavators, and graders for 22 years.
He worked for Buster Thibodeau running heavy equipment until he retired. He loved working in the woods with his skidder, riding on his lawnmower, and mowing his lawn each summer. He also enjoyed going to his Florida home in the winters. His favorite place to go with friends and family was to the Golden Corral where he could enjoy the feast. Virgil married the love of his life, Audrey B. (Stevenson) on November 14, 1959.
He is survived by his wife of 62 years, Audrey Mason; son Sherman Mason and Nancy Colpitts, son Kevin Mason and Sharon Thomas; daughter Karen Mason; grandson James Mason; granddaughter Kathrine (Katie) Mason and Josh McPherson; great-grandson Jordan and Gwendolyn Mason.
We would like to say thank you to the hospice team and all the caregivers for their support during the last year.
A graveside service will be held in the spring. Messages and memories may be shared with the family at kileyandfoley.com