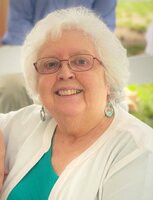 Helen Ann Gallant
SERVICES LIVESTREAMED HERE BEGINNING AT 2:45 ON WEDNESDAY, FEB. 9, 2022
Helen Ann Gallant, 78, wife of Frank Gallant, passed away Wednesday, January 12, 2022 in Bangor from complications with severe pancreatitis. She was born Sept 17, 1943 in Bangor, the daughter of Kenneth W. and Helen I. (McDonough) Downing.
Ann was a University of Maine graduate, a Connecticut Writing Fellow and held a Professional Educator certificate from the State of Connecticut. Ann taught English, reading and social studies in old Town and in Connecticut middle schools. She was an active member of the garden club, participated in a yoga exercise program, a Friday morning breakfast group and was an organizer of luncheons for Bangor High Class of 61 graduates and guests. She was a voracious reader and a trustee of the Brewer library. She will be sadly missed by her friends and colleagues.
Surviving in addition to her husband of 55 years of Brewer are two sons, John Gallant and his wife, Lynn and grandchildren, Jordan and Devin of Killingworth, CT and Andrew Gallant and his companion, Sheree and grandchildren Kaydee, Danielle and Andrew of Marietta, GA.
Helen's family wishes to thank the doctors and nursing staff at St. Joseph Hospital CPCU and CCU for their kindness and understanding during this trying time. In lieu of flowers or for those who wish, gifts in her memory may be made to St. Joseph Healthcare Foundation, PO Box 1638, Bangor, ME 04402 or at ttps://www.stjoeshealing.org/support-our-mission/donate-online.
Family and friends may visit Wednesday, Feb. 9, 2022 from 1:00 to 3:00 PM at Kiley & Foley Funeral Service, 69 State St., Brewer. A casual and brief service honoring her will be held at 3:00 PM as the visitation concludes. The service will be livestreamed HERE beginning at 2:45 PM. Messages and memories may be shared with her family at kileyandfoley.com.
Following the visitation, Family and friends are welcome to attend a Celebration of Ann's Life held from 5:00 to 8:00 PM at Jeff's Catering & Event Center, 15 Event Way, Brewer. Facility Covid Protocols and procedures will apply. Messages and memories may be shared with her family at kileyandfoley.com.