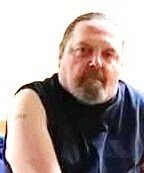 Kevin James Travis
Kevin James Travis (70) of Dover Foxcroft, ME passed away peacefully after a brief battle with cancer on May 4, 2022 at Hibbard Skilled Nursing and Rehabilitation Center in Dover Foxcroft.
Kevin was born in Bangor, Maine to Walter and Gertrude (Goggin) Travis on March 17, 1952. He attended Brewer High School. He held various jobs through the years including doing electrical work, painting houses, and setting up for the circus. He loved to play Bingo, which was his favorite activity at Hibbards, and he especially loved it when he won. He loved to make people smile and laugh and would often be found joking around and teasing anyone he could. One of his favorite things to do was to grow his hair out and donate it to the organization Children With Hair Loss. It made him so happy to be able to do something to help the kids.
Kevin is survived by his wife and love of his life Katherine (Hutchinson) Travis of Dover; four sons: Kevin, Walter, Christopher, and James; a stepdaughter Sherri and her husband Jason; a stepson David and his wife Kristen and their daughter Whitney; several brothers and sisters-in-law; his mother-in-law; and several nieces and nephews. Kevin was predeceased by his father Walter; his mother Gertrude; his siblings Margaret, Walter, William and twin brother who was stillborn; a nephew Walter; and his beloved daughter Melissa.
A graveside funeral service will be held at Corinthian Cemetery on the Exeter Road in Corinth on Wednesday, May 11, 2022 at 1:00 p.m. with the Rev. Jason Doty officiating. The family wishes to extend their gratitude to the staff of Beacon Hospice and Hibbard Skilled Nursing for their great care given to Kevin. The family also wishes to extend their gratitude to Kiley & Foley for their assistance through this process.